We're a family that can trace our heritage back over 400 years to Southern England.
Become a Member Come to a Reunion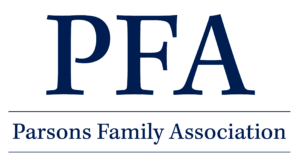 The Parsons Family Association was founded in 1923 by Rev. Frank E. Miller of Lowville, NY as the Cornet Joseph Parsons Descendants Association. The first meeting of the Association, a picnic lunch, was held in Boonville, NY on August 16, 1923. In 1935 the name was changed slightly to the Cornet Joseph Parsons Association of America, and after 1936 included descendants of Joseph's brother, Deacon Benjamin Parsons. The name was changed again in 1941 at the 19th meeting held on July 26 & 27 in Northampton, MA, to the Parsons Family Association.
On April 4, 1942 the Association was incorporated with the Commonwealth of Massachusetts under Chapter 180 of the General Laws for the purposes of "Perpetuation of history and tradition of the Parsons Family in America, maintenance of family records, locations, data, and any other information pertaining to this family."
The Constitution and By-Laws further state that the Association shall "promote among the members of the Parsons Family mutual interest in the Family from the time of its origin in America up to the present, with a view to obtain items of interest in connection with the Family and to furnish, provide and classify such facts pertaining to the family and its history as will be of interest in genealogical investigation."
Since 1941 the Association has actively raised money to help Historic Northampton maintain the Parsons House as 58 Bridge Street, Northampton, MA which was built about 1730 by Cornet Joseph Parsons' grandson, Nathaniel, on the eastern half of Joseph's original home lot.